Among other things, experts believe this is due to the following factors:
IaaS operation in Germany with strong data privacy protections
Excellent transparency and customer centricity with competent and personal contact partners
Extensive range of IaaS und PaaS services for the public cloud, as well as dedicated cloud servers from the IONOS portfolio
Services such as the Data Center Designer and modern APIs
Extremely strict data privacy and security requirements
Data centers are also available in the United States when needed or for international companies
The rating criteria in the Crisp Vendor Universe are divided into the two main categories of "Service/Product Value Creation" and "Vendor Performance." "Service/Product Value Creation" focuses on market maturity. "Vendor Performance" considers the presence and market strategy of providers in the cloud computing segment.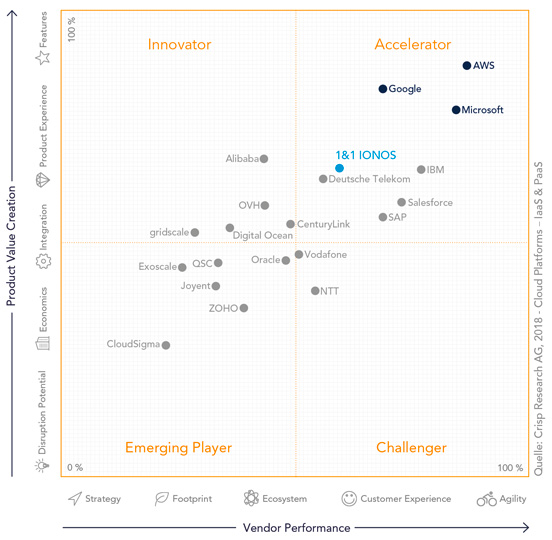 Report
Crisp Vendor Universe 2018
Compare the cloud computing services available on the market.
Obtain clear insight into trend markets and technologies.
See how the IONOS Compute Engine rates compared to other cloud platforms.
Publisher: Crisp Research AG
Lenght: 60 Pages
Released: Sep 2018
Read the report now
Rating for the Cloud Computing portfolio by 1&1
21 providers qualified as relevant market players for the final analysis in the key category of CLOUD PLATFORMS. Like last year, these included 8 portfolios which, as so-called accelerators, are particularly attractive with regard to product maturity and vendor presence on the marketplace. 5 other portfolios were classed as innovators and are therefore equally in a position to offer an attractive range, but do not yet possess the necessary presence and strategic focus to make full use of this potential.
The IONOS Compute Engine was rightly classified as an accelerator: While the Compute Engine does no tick all the boxes required of a global cloud hyperscaler, 1&1 plays a key role in Germany with its Compute Engine as one of the top 5 cloud infrastructures. With their clear focus on IaaS operations based in Germany, the IaaS infrastructures by IONOS are a noteworthy alternative, in particular with respect to the tight data privacy controls in place. Customers always have a competent personal contact to analyze potential, as well as in live operations. The additional data centers in the USA ensure that multinationals can also benefit from the services.
With its IONOS Compute Engine offers an extensive range of public cloud infrastructure and platform as a service features and additionally includes attractive dedicated cloud servers and dedicated bare metal servers in its portfolio. The integrated services mainly target freelance developers, agencies, and small to medium-sized enterprises, but also larger corporations with operations concentrated mainly in Germany, Europe, and North America.
In addition, 1&1 is increasingly expanding its cloud data centers at other international locations as well. Boasting special value added services like the Data Center Designer and modern APIs, 1&1 has its sights set on efficient cloud management. Here, Containers and Managed Kubernetes are particularly remarkable examples of the company's strong performance. What's more, ProfitBricks satisfies the highest standards of data privacy and security thanks to its headquarters and data center in Germany.
Profiling IONOS for cloud platforms
Analyst view
Offering a high-performance and cost-efficient IaaS and PaaS range, 1&1 is among the accelerators in the cloud platform segment. Despite its regional focus, the vendor can keep up with the international market leaders and is an attractive alternative for medium-sized enterprises pursuing a regional strategy in particular. The outstanding transparency and customer centricity, as well as rigorous data privacy promises, make the 1&1 portfolio an interesting option for "cloud novices" as well.
Strengths
Adherence to the strictest data privacy and compliance requirements thanks to the location of the company and the data center
Long track record as the first German IaaS provider and a long list of customer references for all enterprise sizes
Transparent product and pricing model for an easy entry into cloud infrastructure – especially for SMEs
Weaknesses
Ecosystem of sales and managed service partners needs to be expanded compared to hyperscalers
Limited number of platform services
Global data center footprint still in its early stages
Professionalize your business with the Compute Engine!
Your future-proof IaaS solution by IONOS – Made in Germany