Infrastructure-as-a-Service / IaaS
Compute Engine
The flexible infrastructure as a service solution for your future-proof cloud computing applications.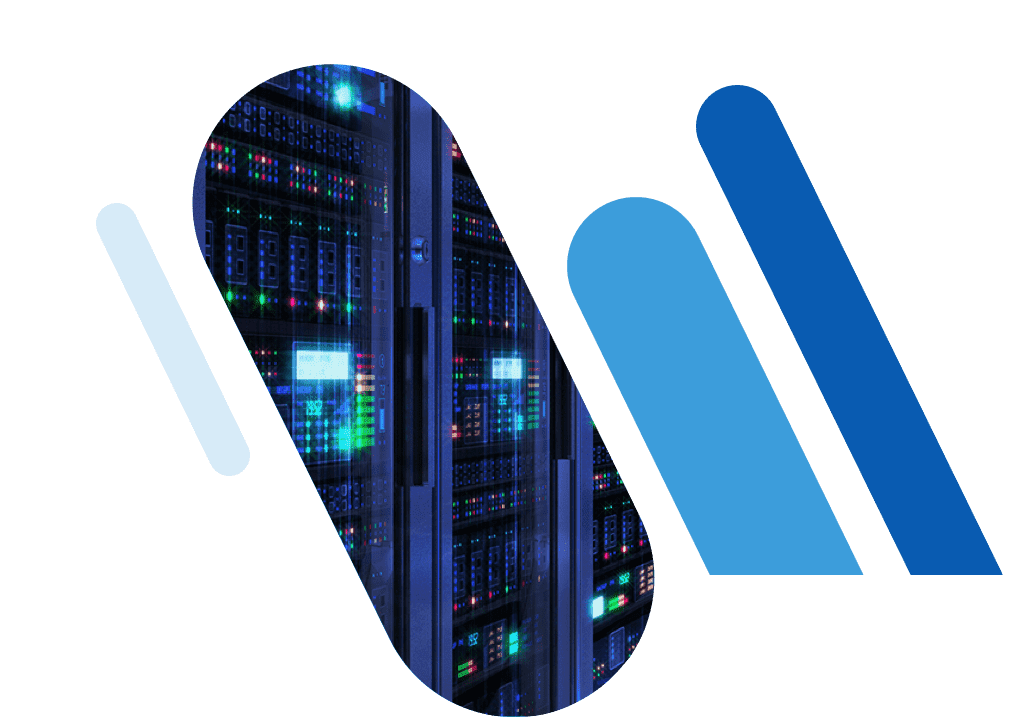 The business cloud for your company
The perfect public cloud is ready to handle your workload! eCommerce applications remain up and running even during peak loads, SaaS solutions work smoothly, CPU-intensive rendering tasks are carried out cost-efficiently, and data archives and backups are stored redundantly.
Whether you are looking to blend on-premises applications with a public cloud in a hybrid cloud or require a genuine alternative to a multi-cloud strategy, the Compute Engine is your perfect choice — with transparent prices, maximum data privacy in certified data centers, an unbeatable backbone connection, simple use thanks to the Data Center Designer and the Cloud REST API, and reliable live vertical scaling.
Data privacy and security
All your business-critical data is extremely safe with us. It is processed and stored with dual redundancy in our certified data centers in the United States and Europe.
Efficient and powerful cloud infrastructure
The Compute Engine leverages your company's flexibility thanks to low investments and faster responses to market changes. You benefit from the Compute Engine's powerful, kernel-based virtualization technology without any overprovisioning or overcommitment.
Cloud features and benefits at a glance
Professional cloud consulting from experts
Are you interested in migrating all your IT or individual projects to the cloud? Our experts will gladly give you helpful, individual, and free advice.
Cloud infrastructure is cheaper than on-site solutions
Our experts can show you how to cut your IT costs by as much as 20% with the Compute Engine. We will calculate your individual
total cost of ownership
compared to on-premises operation.
The right setup for your requirements
We help you determine what kind of IT infrastructure you need. In close collaboration with you, we identify the optimal solution for your enterprise's cloud architecture.
What makes the Compute Engine the right solution for your requirements?
With the Compute Engine, you receive a modern IaaS platform for cloud computing — highly available, secure, reliable, and with fast
software defined networking
. This means you receive precisely the virtual IT infrastructure that your company actually needs. The drag and drop feature in our
Data Center Designer
allows you to put together the resources for your customized virtual data center, without any rigid, prefab packages.
Our
live vertical scaling
gives you the option of flexibly adding new capacities and components to your virtual infrastructure — at any time, on short notice, and without rebooting the system! This is what makes the IONOS Compute Engine
one of the most attractive corporate cloud solutions available anywhere on the market.
See for yourself:
Build your own data center in minutes
Try out the Compute Engine with a starting credit of $500 for 30 days — with no further commitment, contracts, or hidden costs!
Quick registration
Creating your admin access takes just a few simple steps. It is optimally protected by 2-factor authentication.
Simple setup
Configure your server, data storage, and network connections. It's quick and easy using drag and drop in the Data Center Designer or via the API.
Good to go immediately
You can start productive operations in just a few minutes after configuring your virtual data center.
Instructions, documentation, and a robust community
Compute Engine success stories
IONOS is a pioneer of high-performance and future-proof cloud infrastructure.
"What I really like is the dedicated service & care. At IONOS, we're not just customers, we're partners."
"The performance and flexibility of being able to deploy a new server straight after a meeting is amazing."
Success stories: Compute Engine solutions in practice
Find out how our customers benefit from the IONOS Cloud computing platform and in doing so make the most of their IT.
Learn more about our success stories
Fill out the contact form
Compute Engine
FAQ – Frequently asked questions
Scalability, elasticity, and robustness are the most important characteristics of any cloud-based application. An enterprise cloud computing architecture must be designed based on these characteristics. In particular, it must be able to cope with strongly fluctuating loads on the virtual systems and enormous amounts of data, while at the same time making sure the operations run in an efficient and economical manner. Redundancy, regular snapshots, and backups are mandatory.
Measures for building a cloud architecture at enterprise level:
Availability at cluster level or even as a high availability application including fail-over and continued data consistency
Distribution of entities including mirroring of the applications and virtual data centers, and also with the help of geographical redundancy (in parallel operation of both the infrastructure and the programming of an application)
Scalability without interrupting ongoing operations and should be as vertical as possible to save resources; in addition, enable the development of shared-nothing systems
Automation, which must be made possible with the help of microservices, especially in times of agile software development and CI/CD
Configuration management, security design, access management including logging or multi-client capability
Step-by-step migration and preparation of the cloud for hybrid or multi-cloud operation
Prevention of lock-in through proprietary cloud technologies
Backup and disaster recovery strategies are essential for businesses in order to minimize the impact of system failures. The IONOS Compute Engine provides you with an effective tool for this in the form of Acronis Cloud Backup.
Disaster Recovery
For the average company, data is crucial for working processes. Therefore, it should be backed up effectively so that it can be restored very quickly in case of an emergency. Successful disaster recovery means that efficient workflows can resume as soon as possible.
The advantages are clear:
Short downtimes mean that a company can still be reached at practically any time, which leads to growing trust in the company and an improved brand image.
A company's ability to conduct business is also maintained and
financial losses are kept within reasonable limits.
Helps companies comply with their obligation to keep accounting and financial data in accordance with data protection measures.
Business continuity and disaster recovery
Business Continuity Management comprises all measures that ensure that the ongoing operations of a company are affected as little as possible in extreme or catastrophic situations (e.g. power failure, pandemics, natural disasters) or can be restored to normal very quickly.
Disaster recovery strategies, on the other hand, refer to the rapid restoration of IT systems and stored data.
In order for disaster recovery to be successful, a plan for structured data recovery must be in place.
When deciding how best to proceed, the following questions could help:
How much data may be lost? (Recovery Point Objective, RPO)
Which data saving method do I choose and at what intervals should it be saved?
How long can the system be down for before it becomes critical for the business? (Recovery Time Objective, RTO)
What is the ideal location for backups?
What types of backups are available and how are they best used?
Full backup
Differential backup
Incremental backup
Data backup with Acronis Backup Cloud and the IONOS Compute Engine
The Compute Engine mirrors a so-called public cloud. But not all elements of an IT infrastructure need to be in the cloud: on-premises solutions are often combined with components in the cloud. Acronis Cloud Backup backs up all these components reliably. You can also use Acronis Cloud Backup for IT systems that are not in the Compute Engine at all.
The advantage is that it is easy to use: In the user interface and API of the Compute Engine, you will find a button to access the Acronis backup console. Here you determine which servers or VMs are backed up, and with which saving method. This will make your work easier even if you move your system from "real" hardware to the cloud at a later point or simply partially move it: Access to the Acronis Backup Console is always located in the same place, no matter how much your system changes over time.
Acronis initially performs a full backup and then saves changes incrementally. In the event of an incident, the entire data backup can later be restored as a full backup – all at the push of a button. With Acronis Cloud Backup in the Compute Engine, you have a powerful tool at hand that helps you to protect all components of your IT system appropriately.
Data management is the sum of all technical, conceptual and organizational measures and procedures for the collection, storage and provision of data. This is so that various processes in companies can be optimally supported. Data management includes measures to ensure…
Data quality
Data consistency
Data security
Data encryption
Data archiving
Data access
Data deletion
Data life cycle management.
The various aspects and elements of data collection, data access, and data storage are also taken into account as part of data management.
The IONOS Compute Engine provides virtual data centers that the customer can configure according to their own requirements and are able to use like conventional data centers. In the cloud, there are no limits when it comes to implementing an internal data management guideline or following external compliance guidelines.
As a product of IONOS SE with headquarters and data centers in Germany, the IONOS Compute Engine is fully subject to the GDPR requirements and simultaneously offers maximum security against the US CLOUD Act.
The IONOS Compute Engine knows the importance of developing a strategy so that the customer can use the cloud as optimally as possible. Professional service cloud consultants take the customer by the hand and work with them to develop meaningful cloud architectures and test them using a proof-of-concept.
Customers use a large amount of scripts and best practice papers for migrating IT workloads. If a problem arises, customers turn to our professional 24/7 support, where they can receive detailed instructions from trained system administrators.
The IONOS Compute Engine is a so-called public cloud and offers infrastructure-as-a-service and platform-as-a-service.
Unlike a private cloud, the public cloud offers services available to the general public and not exclusively for a specific organization. A private cloud is either operated by the organization itself or provided exclusively by a service provider for this specific organization.
The use of a public cloud can be restricted by strict legal data protection regulations or by security concerns. In certain industries, regulation prohibits the transfer of data to external service providers who do not meet the strict data protection requirements. In such cases, either the IONOS Compute Engine (with maximum security under the US Cloud Act), a private cloud, or a hybrid cloud (a mixture of private and public clouds), is the best option.
The hybrid cloud offers combined access to the services of a public cloud and a private cloud depending on the requirements of the respective application. Compared to the public cloud, an advantage of the private cloud is that the performance of the services is influenced even less by other customers than in the kernel-centered virtualization of the IONOS Compute Engine.