Software Defined Networking
Whether it's a complex data center or just a server — SDN (Software Defined Networking) significantly simplifies the design and operation of a proprietary IaaS solution.
Software Defined Networking for flexible network structures
Software Defined Networking (SDN) is a concept that aims to control network infrastructures via a central software solution. This approach gives network engineers and administrators a maximum degree of freedom and flexibility to respond quickly and seamlessly to changes in business requirements. We also use this modern architecture concept here at IONOS Cloud : As cloud providers, we use SDN not only to virtualize the control plane, but instead apply it to the entire network — providing you with a cost-efficient Software Defined Networking solution with a functional scope and speed that are noticeably superior to others.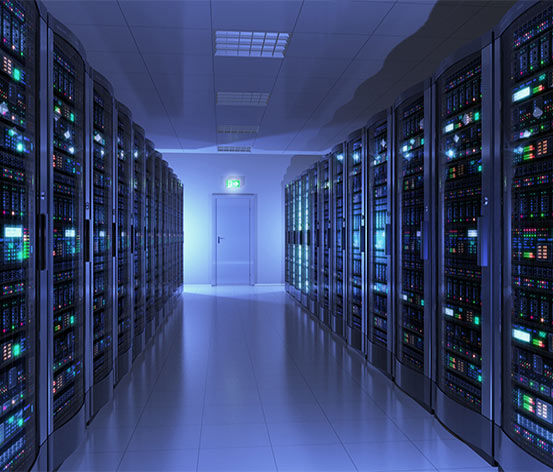 Creating your own virtual data center with Software Defined Networking
Conventional networks based on physical hardware are not flexible enough for the requirements of modern IT infrastructures and, above all, are comparatively expensive. This is why there is a growing trend toward replacing traditional in-house solutions with external IaaS cloud services. While many providers are focusing on the virtualization of server structures and storage, we at IONOS Cloud are taking things a decisive step further: Our Software Defined Networks also provide you with all other network components like firewalls, load balancers or switches in an abstract form. Therefore, you can obtain the resources you need at any time and in your preferred configuration.
The individual components are controlled by the Data Center Designer, our proprietary Software Defined Networking tool. This allows you to easily configure the desired network structure, without having to access the physical network components. Not only are you able to use SDN to manage simple servers, you can also design and operate your own virtual data center if needed. Similar to Software Defined Networking, this is referred to as a Software Defined Data Center (SDDC).
With our high-quality Cloud REST API, you can easily manage the IaaS resources of the Compute Engine with other Software Defined Networking tools.
The advantages of a Software Defined Networking-based cloud
The IaaS services offered by IONOS Cloud give you access to complex, cloud-based server and network structures that can be managed dynamically from anywhere and at any time. This is excellent proof of the decisive advantages that Software Defined Networks offer compared with conventional networks. These are some of the advantages offered by SDNs.
Flexibility and minimal provisioning times:

All software and hardware components are available to you within a very short time thanks to Software Defined Networking. It doesn't matter whether you want to book additional computing power or storage space, modify the network structure or scale down your capacities. IONOS Live Vertical Scaling lets you adjust all components of your IaaS architecture on the fl
Easier configuration thanks to reduced complexity:

The infrastructure of the virtualized Compute Engine network is significantly less complex than that of conventional networks. Fewer switch ports and cables are required in Software Defined Networking, which minimizes the overall risk of configuration errors. What's more, the software-based management of individual components creates a much easier configuration process with structures that are simple and easy to adapt.
Lower costs for network configuration and operation:

As an IaaS cloud computing provider, we focus on Software Defined Networking because it simplifies administration. Besides that, we apply this modern approach with the aim of minimizing the costs of your IT infrastructure. Pin-point resource scaling ensures substantial savings compared with a fixed hardware setup — with respect to configuration as well as operation.
In-house Software Defined Networking
The solutions offered by IONOS Cloud do not use Software Defined Networking tools by third-party providers; instead the Compute Engine provides customized applications that offer companies two key advantages: end-to-end integration and maximum flexibility. Upgraded continuously, the proprietary Software Defined Networking tools ensure highly intuitive operation. Nonetheless, network engineers, administrators, extensive documentation and free 24/7 support are available in case of any problems or questions, guaranteeing quick and efficient elimination of any uncertainties that may arise when using the Software Defined Networking tools.
Software-controlled IT infrastructure combined with state-of-the-art network technology
A virtual data center by the IONOS Cloud is largely the same as a physical data center, while providing the advantages of Software Defined Networking described above. To play to the strengths of the network concept, we combine our cloud solutions with InfiniBand — a network technology from the field of high-performance computing. This switch-based (point-to-point) connection architecture supports signal rates of up to 80 Gbit/s and data transmission rates of up to 64 Gbit/s. We can therefore offer you a transmission speed that is up to eight times zippier than the fastest Ethernet currently available, which is 10 Gbit/s. What's more, our virtual performance networks supported by Software Defined Networking tools are significantly more efficient than conventional Ethernet solutions, as network collisions cannot occur, even under high load.
Additional features for high speed: load balancers, NAT and Cloud Connect
One of the biggest challenges when setting up virtual machines in the cloud is that they often lack flexibility when it comes to networking the virtual servers. In the worst case, all virtual machines are connected directly to the Internet. Limited networking options that enable load balancing are offered in some cases. However, it is still rare to find genuine isolation of the customer network in a virtual data center such as offered by IONOS Cloud Software Defined Networking solutions. In addition, our use of Network Address Translation (NAT) allows customers to selectively connect virtual servers directly to the Internet. For users who value a particularly high degree of cloud security, this presents an exciting added value from a German IaaS cloud computing provider.
IONOS Cloud Cloud Connect
is a customized service that enables particularly secure access to the public cloud. It creates dedicated access to your virtual cloud resources with the help of access providers such as 1&1 Versatel. The Software Defined Networking tool generates high-performance VLAN interconnects to ensure that the physical location of the communicating systems is no longer relevant and that only these systems actually exchange data with one another. Private Cross Connect provides effective support for Cloud Connect within the IONOS data centers. Private Cross Connect allows you to create additional dedicated connections between multiple virtual data centers WITHIN the public cloud (within a bricks-and-mortar data center). Brilliantly designed cloud security and safe cloud hosting — thanks to Software Defined Networking.